This is a bulk WhatsApp sender software that will help you grow and promote your business and Reach unlimited people with just one click.
Why should you buy this?
Because there is no limit to sending bulk messages and we provide you best service at a cheap price.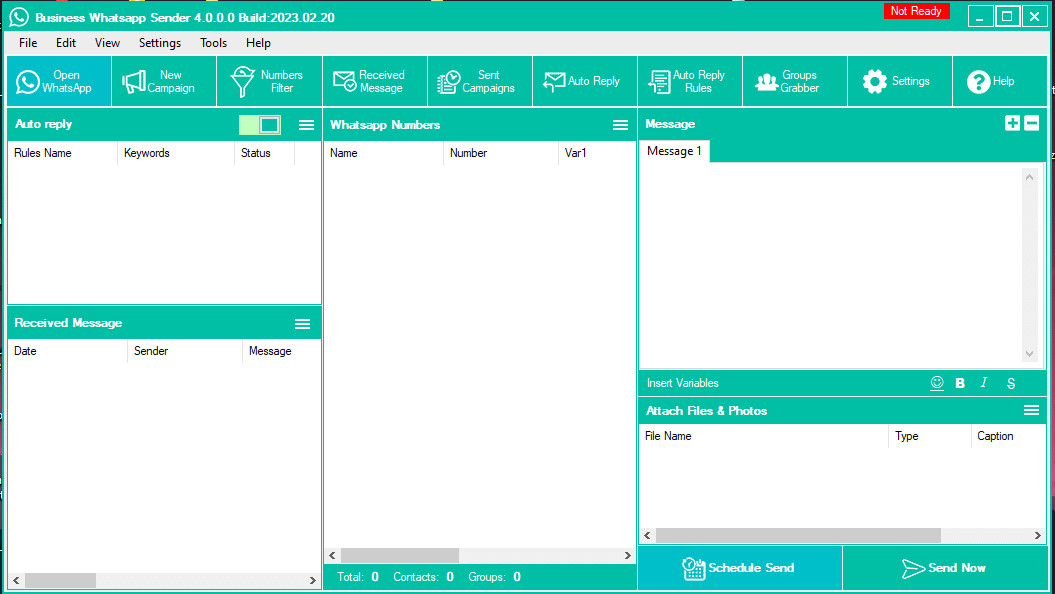 Customized Massage
You can send customized Massage in many languages and do your promotion by breaking Language boundaries.
Massage Blaster
Woohoo..! Do your promotion with limitless messages without saving any number.
Supporting media formats
This Bulk WhatsApp Sender software supports all multimedia features. You can make your massage in video , audio, image, or text format
Extra Advance features
It has dual mode sending features it can be used for sending messages in safe mode and blind mode also it can filter Business or regular WhatsApp numbers, a Fast number filter, and a scheduled message-sending system.
Import Multiple files or Contacts
You can import any kind of file or contact details
from CVS or TXT files or using copy and paste.
Product Description:
Introducing Bulk WhatsApp Sender – WhatsApp Marketing Software:
Bulk WhatsApp Sender is a powerful and efficient WhatsApp marketing software that empowers businesses to reach a wider audience, engage with customers, and promote their products and services effectively. With its advanced features and user-friendly interface, this software is an essential tool for any marketing campaign on WhatsApp.
Key Features:
1. Bulk Messaging: Send personalized messages to a large number of WhatsApp contacts simultaneously, saving time and effort in reaching your target audience.
2. Contact Management: Easily import and manage your WhatsApp contacts, allowing you to organize and segment your audience for targeted messaging.
3. Automated Messaging: Schedule and automate your WhatsApp messages, ensuring timely delivery and maximizing engagement with your audience.
4. Multimedia Support: Send text messages, images, videos, and documents to enhance your marketing campaigns and capture the attention of your customers.
5. Personalization Options: Customize your messages by including variables such as the recipient's name or other relevant information, creating a personalized and tailored experience.
6. Group Messaging: Communicate with WhatsApp groups, enabling you to engage with multiple users at once and promote your offerings effectively.
7. Anti-Ban Protection: Built-in anti-ban features ensure compliance with WhatsApp policies, minimizing the risk of your account being blocked or restricted.
8. Analytics and Reports: Gain insights into the performance of your WhatsApp campaigns with detailed analytics and reports, allowing you to measure the effectiveness of your marketing efforts.
9. User-Friendly Interface: The intuitive interface makes it easy for users to navigate and utilize the software's features, even without technical expertise.
10. Regular Updates and Support: Benefit from regular software updates, ensuring compatibility with the latest WhatsApp updates, and receive prompt support to assist you with any queries or issues.
Unlock the power of WhatsApp marketing with Bulk WhatsApp Sender. Boost your reach, engagement, and conversions with this comprehensive WhatsApp marketing software.